Inverted Yield Curve – Signal or Noise?
Financial markets received a surprise from Federal Reserve "doves" following the March meeting, with not only the announcement of ending balance sheet tapering by September, but also conveying they do not anticipate any additional interest rate increases in 2019. Investors anticipated the Federal Reserve would slow the pace of rate hikes and balance sheet reduction, but certainly not to the degree that it did. With most macroeconomic indicators still signaling healthy underlying U.S. growth, which Chair Powell highlighted at his press conference, many investors were left confused and wondering what concerned the Federal Reserve (Fed) so much that it would make such a dramatic shift in policy. Consequently, markets did not react as positively as they had when the Fed began making dovish moves in December. Stocks initially declined, and the U.S. Treasury yield curve became even more inverted, with T-Bills yielding more than 10-year Treasury bonds.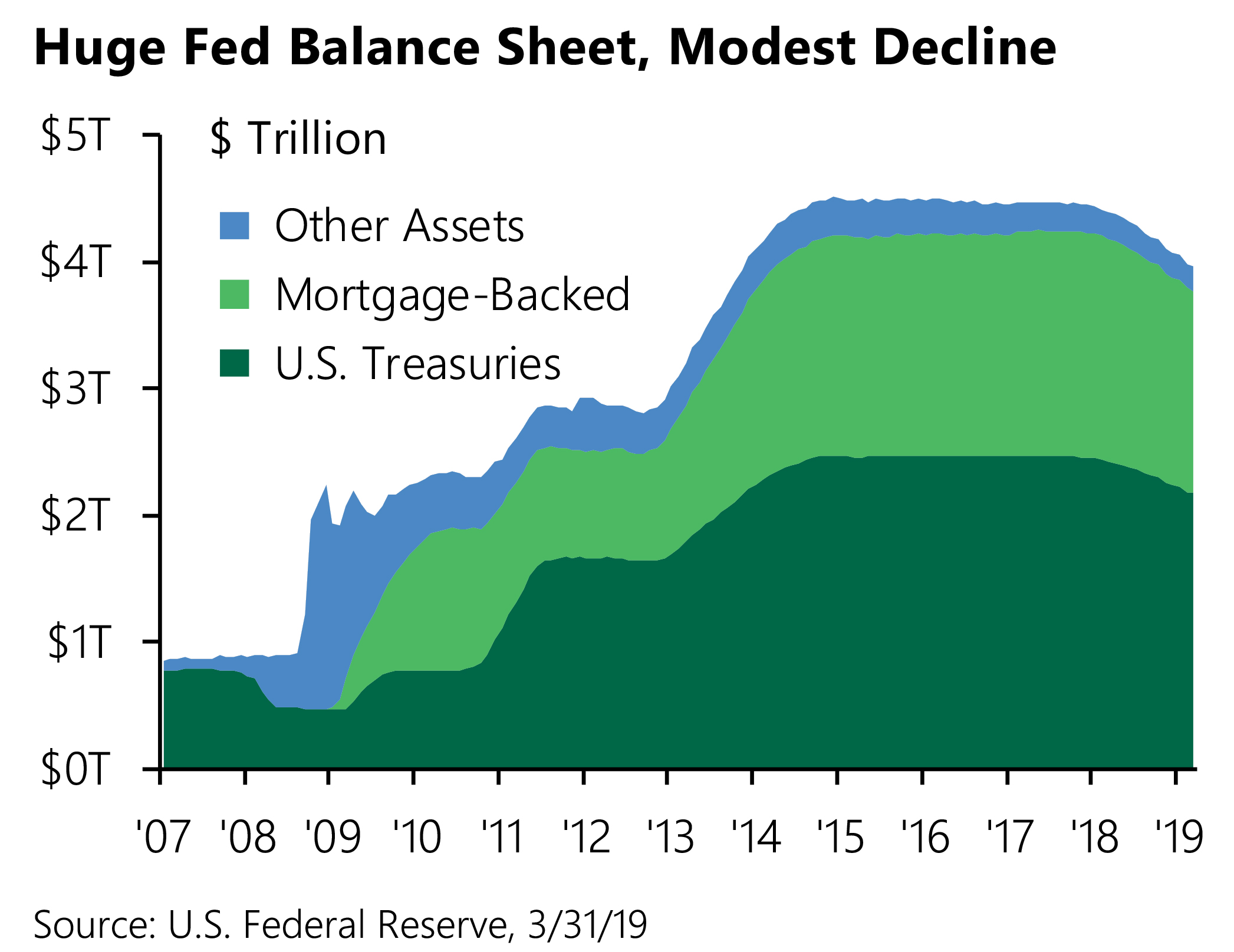 The Fed's balance sheet has come down from $4.5 trillion to $4.0 trillion and is expected to stabilize at $3.8 trillion in September. The balance sheet has been declining about $40 billion per month by not reinvesting all the funds from maturing Treasuries and principal/interest payments from mortgage securities. From May through September, the pace of decline will slow to about $30 billion per month. After September, the Federal Reserve will reinvest all maturity and mortgage payments into Treasuries.
When reviewing the balance sheet, it is important to evaluate the level of excess reserves the Federal Reserve believes necessary. Current estimates have converged to a number close to $1 trillion, which is already very high. When the balance sheet unwind concludes in September, it will leave an estimated $1.3 trillion in excess reserves and a total balance sheet of $3.8 trillion. This higher-than-expected level of reserves has worried financial markets, as investors were left to wonder why the Fed feels the need to retain so much extra liquidity.
While the Fed left interest rates unchanged at the current target range of 2.25-2.50 percent, it changed its forecast from 1-2 hikes in 2019, to no hikes in 2019 and one hike in 2020. This sent a confusing message given that Mr. Powell has emphasized that underlying U.S. economic activity remains healthy, albeit slowing from a quicker pace. Weakness outside the U.S. impacted the Fed's view, including Brexit uncertainty that continues to weigh on Euro Area activity. In addition, tariff discussions, along with other factors, has slowed China growth rates. However, there is upside economic potential given the eventual resolution of these current overhangs. While global growth may have slowed from an above-trend pace, we believe economic activity is adjusting to a new equilibrium.
In the past when the yield on the 3-month T-bill was higher than that on 10-year Treasury bonds, many analysts have claimed that this inversion was a good predictor of recession. With this inversion again occurring, investors are fearing the worst. Yield curve inversions in and of themselves do not cause economic recessions. Many are the result of a deceleration in economic growth that causes investors to anticipate an interest rate cut. Various parts of the curve have experienced inversions over the past year, mainly driven by supply-demand imbalances in addition to the Fed's balance sheet reduction. Our view is that the yield curve will remain inverted in the near term and then begin to steepen. We anticipate the Treasury purchases will eventually be skewed to shorter durations, which will cause the front end of the curve to move lower. Additionally, the Fed is floating various ideas to have banks post short duration Treasuries as excess reserves at the central bank. This can accomplish two goals: first, increase demand for short term Treasuries (thus steepening the curve); second, reduce the cost to tax- payers of paying the banks interest on these excess reserves, currently over $30 billion a year. Furthermore, the Federal Reserve intends to let inflation run higher than 2 percent. The combination of falling short rates (due to increased demand) and higher long-term rates (as inflation is allowed to increase beyond 2 percent) will eventually cause the yield curve to steepen.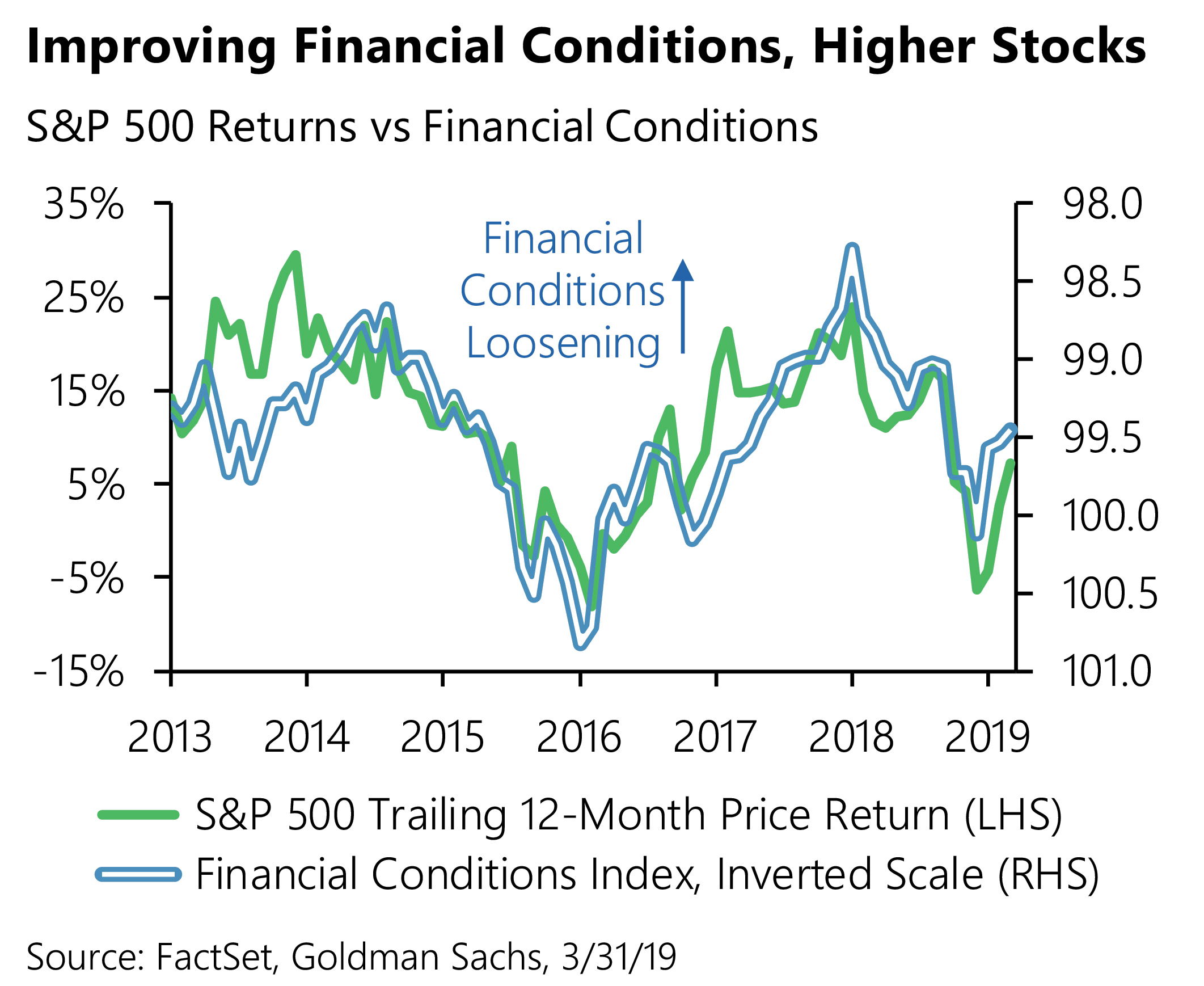 Given underlying U.S. economic strength and healthy consumer balance sheets, we are adding to credit and spread exposure via corporate bonds. TIPS are attractive as inflation expectations are currently too low relative to the level of economic activity. We are reducing Treasury exposure in the 8-10-year part of the curve after the recent rally in those tenors.
A deceleration this late in the economic cycle is bound to stoke recession fears, but a dovish Fed has led to improving financial conditions, boosting short-term economic prospects while supporting equity valuations. While we generally believe an "earnings-driven" market is healthy at this point in the cycle, it is also true that stock markets tend to perform well when the Fed is on hold. As the chart to the right indicates, the Fed "put" appears to be alive and well, with financial conditions improving markedly as rate expectations have been reigned in.
Falling yields and growth concerns tend to push investors toward defensive "bond proxy" sectors, and this time is no different. Valuations for defensive sectors (i.e., staples, utilities) have been rising for some time and are particularly elevated now. We believe the valuation disparity between many cyclical groups relative to defensive areas has simply gone too far.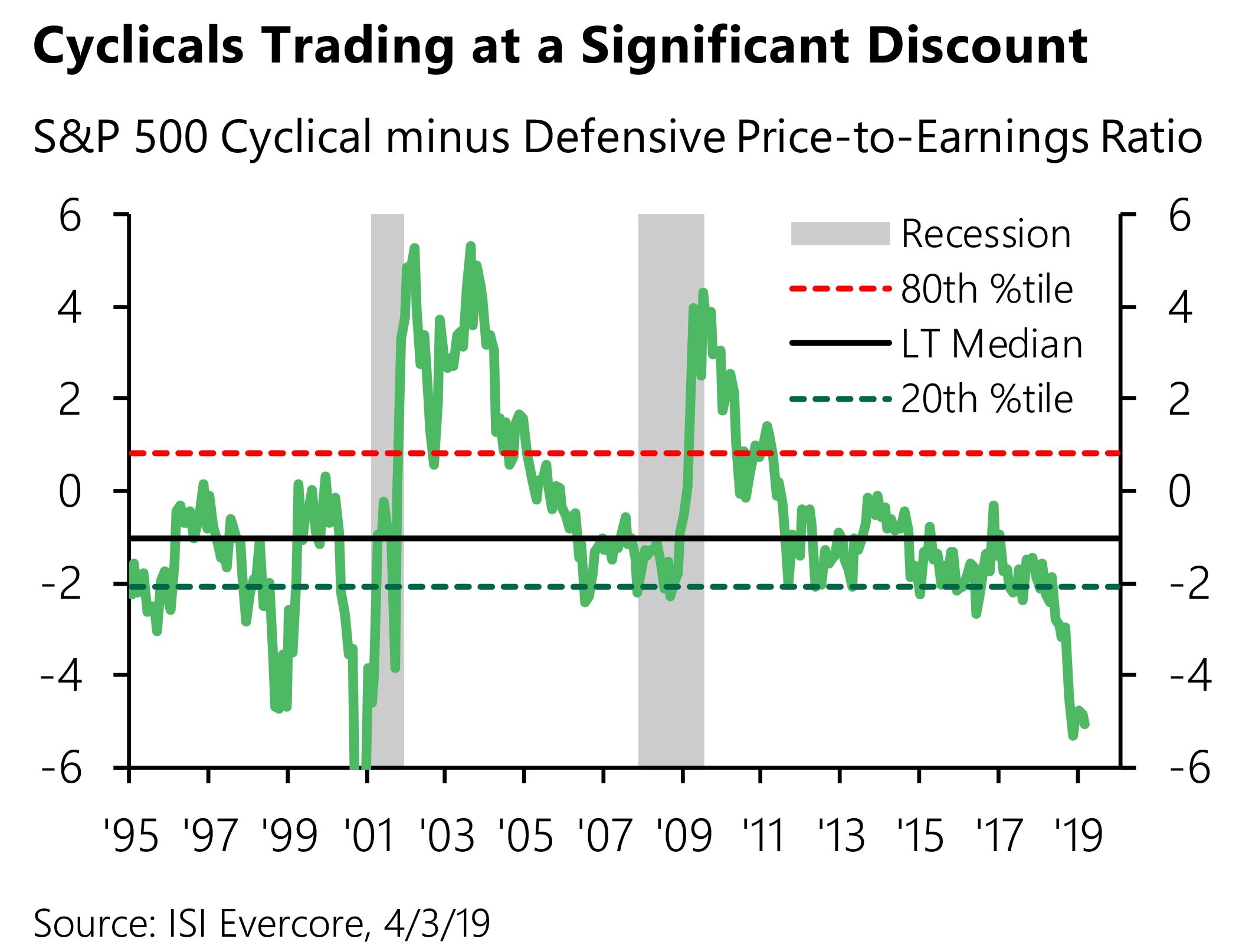 As discussed above, we do not believe the slight inversion of the yield curve is sending a "recession signal." Cyclical performance should improve as economic data stabilize and, particularly, as China stimulus begins to take hold. In addition, while "peak earnings" concerns are limiting investor enthusiasm for cyclicals, the Fed's dovish stance and improved financial conditions should give investors comfort that the end of this expansion is not imminent. Regarding investment strategy, we see compelling risk-reward opportunities in a diverse group of cyclicals, including aerospace, semiconductors, oil refiners, chemicals, airlines, life insurance, and investment banks. We do, however, remain cognizant of risks (e.g., failure of trade talks, Brexit, etc.) and believe it prudent to balance cyclicals with more stable, secular opportunity growth stocks. Attractive groups in this category include pharma/biotech, medical devices, HMOs, telecom, P&C insurance, and select technology stocks.
Financial markets frequently overshoot in both directions. Equity markets reflected too much pessimism at the end of 2018, and bond markets are doing the same now. More optimism on economic growth will, once again, reverse this sentiment. While market volatility has waned in recent months, we suspect it will not last too long.